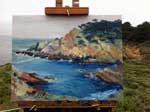 'No Sun in Point Lobos'
was my first painting, which obviously was done at Point Lobos! Overcast and foggy was not what I would have preferred and luckily I had brought my fingertip free gloves and parka. But painting there was joyous and reminded meof my Cape Perpetua artist residency. Now I know that I thoroughly enjoy painting in public outdoor places. People come by interested in what you are doing and it is fun to share – especially with kids. I had plenty of visitors, photos taken and even a tip given to me by a 10 year old!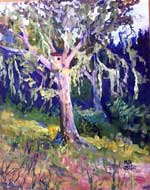 'Boot Home for Flicker'
was painting #2, completed on the grounds of my Monterey hosts (Joan and Ron) who share a deep love for the outdoors and for wild creatures. Their Boot Road home has many bird feeders and houses and is often visited by deer and wild turkey. This particular bird house was being inhabited by a flicker (type of woodpecker) who after watching me paint for a while began to go in and out of his home. I thought the decorative hanging moss on the branches of the tree was particularly charming.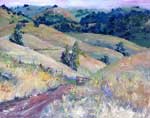 'Steinbeck's Pastures' was painted on location at a spot which was visited by Steinbeck in his early writing days and inspired him to write a short story known as "Pastures of Heaven". I was informed about and directed to this spot by Ron who has lived for decades in the area and has a tender spot in his heart for this particular road. On this occasion, the only company I had was the mooing of distant cows, the songs of quail and raptors flying overhead.