Worth It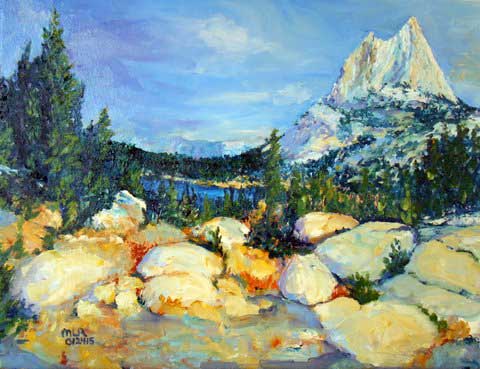 Friends -
I am saying up front that 'Worth It' is not my best painting. But it holds for me two acknowledgements of things that I have done that were tough, and makes me feel better about myself.
The first acknowledgement came in September when I finished a glorious 5-day backpack in Yosemite high country with my daughter, Xochitl. I was so gratefully entranced by this view of Cathedral Peak on the last day of our 5-day trek as we headed back down to Tuolumne Meadows. It was tough for me to backpack all of the ups and downs on a knee that had long needed replacement. This last day pretty much gave me the full information I needed to confirm that titanium in the knee joint would be my best option. So, I made that decision then and there. But let me tell you, the views and pleasure of sharing them with Xochitl made it all well worth it.
The second acknowledgement came recently and post-surgery. It takes a while to be able to stand at an easel and paint again after your leg has been sawed in half and glued back together. And I have to say that the first 2 or 3 times I worked on this painting it was tough to try to make my mind go into that 'zone' I usually enjoy when I paint. It is better now, but I think the painting reflects the conflict that was going on in my physiology and for that reason could be better using traditional artistic standards. Yet, it represents for me just one more struggle that I overcame and therefore it was worth it.
So that's my story, and I'm sticking with it.
margie lopez read


top