Snoqualmie Boulder Field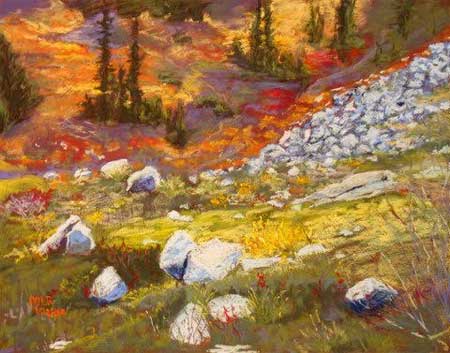 Dear Friends -
It is not typical that I paint something from a location that I have not personally visited. It is my practice to paint it on site (plein air), take the photograph myself for studio work, or at the very least have been there with a friend when the photograph was taken, and use it with permission.
But, I do make some exceptions, and Snoqualmie Boulder Field is certainly one of those. I have hiked quite a bit in the Pacific Northwest, but usually in Oregon - only a small amount in the state of Washington. Still, I feel a kinship with the area enough that I can look at an image photographed by my sister and feel the rough trail under my feet and smell the crisp air blowing through the pines and wildflowers.
Kate took the photograph on her recent hike on the Granite Mountain trail in the Washington Cascade Mountains. If you are willing to hike up to the 5,629' elevation of Mt. Baker you will be delighted by an abandoned fire lookout building on top - as if the trek up there is not glorious enough. At the time I finish typing this I imagine that the fall colors are faded as the Cascades prepare for the winter. Regardless, it must still be beautiful.
Go there before the heavy snow, or be sure to visit it in the late spring. I intend to.
As always, this painting will be traded for a worthwhile donation. I do have a friend who has expressed some interest, so it may already be gone. But until that is confirmed - please let me know it you are interested in this 14"x18" soft pastel as a thank you for your tax-deductible donation to a worthy community college scholarship fund in Eugene, Oregon.
margie lopez read
top