Si Se Puede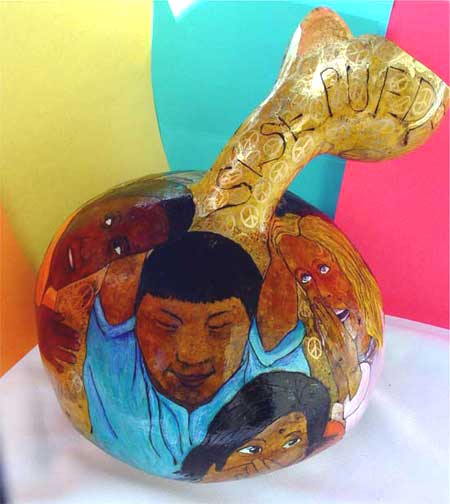 Nov. 17, 2008

I finished this gourd last Sunday, but am just getting around to sending it out. I guess it is pretty clear what it is about. I remain very charged up about the fact that so many people came to terms with reality and placed their vote based on hope, rather than fear. With that much feeling inside of me, I had to spent some time in my Lopez Island studio to show it. 'Yes We Did' has more on it than most of my gourds:

It has seven faces of individuals from all around the world -- in ecstasy over the election results on the evening of November 4. The smallest one is actually me -- only at age 17. Because that is the way this historic event makes me feel.
In one section you cannot tell if the clapping hand belongs to the young black man from Kenya, or the blue-eyed woman from France next to him. That is good, we are all the world's children.

The back is open showing the inside, which starts out black, but as it grows out toward the open top, streaks of color appear and it starts to turn to gold, spilling out a golden glow and peace symbols from the top.

Anyway, making this was very good for me. Let me know if you want to see more sides/angles. And now, the real work begins.

Happy days for America and for the World....
Margie Lopez Read

top