Seeking Adventure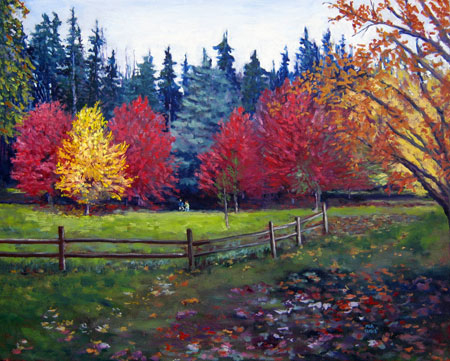 Friends -
Well, it seems I had time for one more painting this year after all! There's nothing like grandchildren to inspire extraordinary efforts, right?
Actually, painting Adventure Seekers did not feel like an extraordinary effort at all. Canvas, oils, turpentine, good subject matter, warm weather and loud music . that is my kind of heaven.
This is an autumn scene across the river from Alton Baker Park in Eugene, Oregon, and the place to find the trail to Skinner Butte. My grandsons, Benjamin and Leonardo have spent many hours playing in the playground at the base of Skinner Butte, and both of them have climbed to the top as well. So naturally, they needed to be the heroes in this painting, heading off for the trail head to the top. They both have done it before.
Honesty requires me to confess that Leonardo (age 2) does need to be carried from time to time, but already he wants to go hike whenever the subject comes up. Benjamin (age 5) is a pro - having summited Skinner, Spencer, Baldi and Pisgah on his own two feet before he was age 4 - he likes to advise his younger brother appropriately.
Needless to say, the original of this painting is already spoken for, but should anyone be inclined to make a donation to a worthwhile cause, my friend Jim Ginney can make excellent reproductions of my work always.
Enjoy the end of 2013, and I look forward to sharing more with you next year.
margie lopez read

top