Seattle Wedding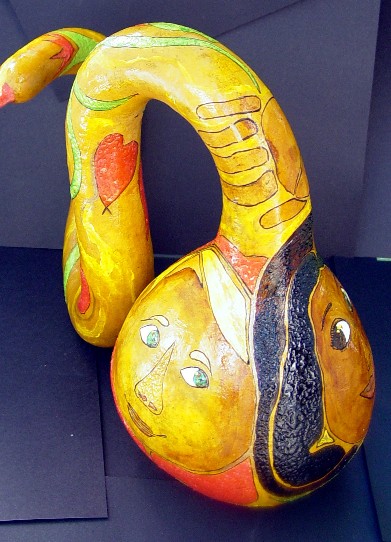 Friends -

I started this gourd last weekend while I was in West Seattle for my niece's wedding in a lovely area adjacent to Puget Sound. It is somewhat whimsical because being with family tends to make me do caricature type faces, as I have done since I was a kid. Let me know if you want to see the Cece only, or the Rusty only photos. This gourd is also somewhat native in that I plagiarized the art style of the Pacific Northwest Indians with their simple, solid colors and concentric shapes. After all, Seattle was the name of a native Chief of the Duwamish tribe, and their native art style is still evident everywhere there.

But of course, this is a modern gourd, and I had to use Cece's wedding colors of lime green and salmon, and with the excitement of embossing powder -- this is a big departure from Duwamish art!
Nonetheless, this gourd will join the others at Lopez Island for the El Dorado County Artists Studio Tour, 2009. This year I will be joined by Jane VanCamp (nature photographer) and Sherrie Milligan (watercolor artist) and my goal is to use my sales as a benefit for M.O.R.E.

The Studio Tour is September 18, 19, 20, 2009. Jjust let me know if you need more information. Otherwise, we will look forward to your visit that weekend!
margie lopez read
top