Rucky Chucky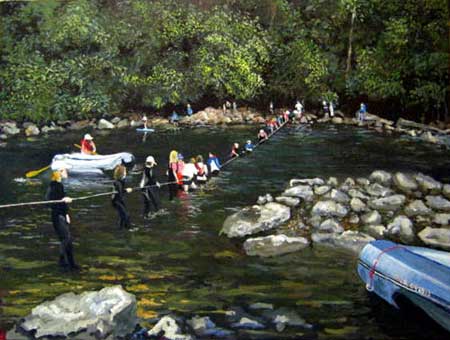 Friends -
The Western States 100 Mile Endurance Run (WS100) is coming up on it's 40th Anniversary and about half way through those past years it established itself as one of my big interests and changed my life.
The life-changing qualities of WS100 are not solely because of the particular race, but rather from the combined experience of all the other ultra-distance events required to get 'good enough' to enter. Probably the most lasting value that it has for me was the opportunity to meet so many amazing and talented and kind-hearted persons. In these events there are so many people who have courage, like to take risks and do not hesitate to live large. And because big sports money has not yet overtaken our ultras (prize money is generally non-existent), there is a kindness of spirit that is shared between almost all runners - leaders and back of the pack, alike.
Bob and I both separately became involved in the race more than 22 years ago, and ultimately, it caused us to meet. Since then we have continued to if not running, then pacing, crewing, aiding at start-finish, or some combination of the above. This last June, race director (Greg Soderlund) asked us to guide a camera crew to follow Meghan Arbogast -- an exceptional woman's masters athlete. It was really a hoot to 4-WD around and to try keep up with her and watch as lead runners passed through various check points.
One of the best spots ever was the Rucky Chucky River Crossing (which is the subject of my painting). I had been here many times before, but never while there was still daylight. You see, the Rucky Chucky is about mile 78, and the majority of runners do not get there until after the sun goes down. Indeed, this was a big treat for me! So I snapped a photo with my iPhone, but Meghan - being as fast as she is -- was already halfway to the other side when I finally got it together. But I did get it, and this resulting, rather impressionistic, painting was completed using acrylic paint on canvas.
As usual, I will sell this painting and/or prints of it for your donation to a worthwhile non-profit - my preference being Lane Community College Scholarship Foundation. But you have a say in this if you want one.
Be well. Live large.
margie lopez read
top