Rim Chase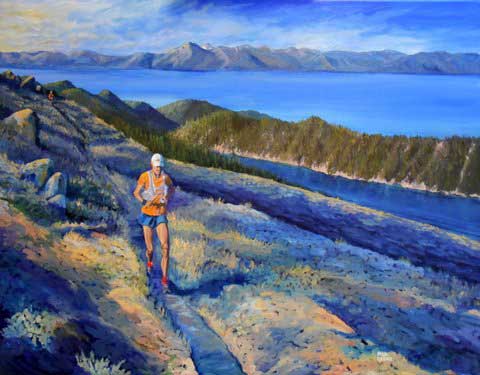 Friends -
I have often fantasized about using art to express the utter bliss that I experienced when I would run distance events. But until now I was never was able to find within my own mind the perfect image to do that. Instead, I would just run some more. Now, thanks to George Ruiz, the perfect venue has offered itself.
Rim Chase was a request by George, who is race director for Tahoe Rim Trail Endurance Runs (TRT). The event offers 50K, 50mile and 100 mile distances through some of the most beautiful wilderness in the country, if not the world. TRT has been described as a race that offers a 'glimpse of heaven and a taste of hell'. I have run the race myself many times in the beginning years when Dave Cotter was the director. I can't say, though, that I ever tasted that 'hell' that is referred to. Although very, very tough, it has always seemed to me to be the most gloriously beautiful - and heavenly - event that I ever did.
Now that I am unable to run those distances anymore, George offered me the means to do so vicariously through this painting. It will be used for this years' event in a way that I am not able to divulge right now, and it is being given to TRT in exchange for a donation to Lane Community College Scholarship Fund. Thank you, George.
I also want to thank Keith Facchino of Facchino Sports Photography who has been snapping shots of race participants at TRT and other renowned events for so many years. Keith is a talented artist who let me use one of his photos to ensure that I got the location of the painting right.
I am such a lucky duck.

margie lopez read

top