Rancho San Antonio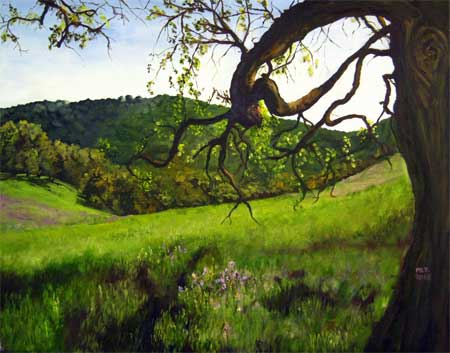 Friends - This oil painting is important to me for many reasons, and I can share three of them with you.
Here is one: I feel strong attachment, if not unentitled ownership, for the part of the South Bay area (California) which now includes Deer Hollow Farm, Rancho San Antonio County Park and Rancho San Antonio Open Space Preserve (Rancho). This part of Santa Clara County is near to my childhood home and was one of the places that we were taken as kids. Higher trails in the Rancho bring views of places I have been as a youth -- San Francisco, Dumbarton and Bay Bridges, Stanford University, Moffett Field, San Jose, Cupertino, Sunnyvale and acres (now developed) that used to be covered by open fields or orchards. The brawny green of ancient heavy oak trees and scents of eucalyptus and bay remain so much a part of me that I can't help but be transported back in time with each and every visit to Rancho. Mostly, it is Santa Clara County. All 'mine'.
Another reason: As an adult, Rancho was also a training ground during my ultra-distance running days. Although I had long since moved away from Santa Clara Valley, my Mom and my brother still live there. I also met Bob at a 100K race at Stanford University in 1991. He also remained there for several years before he moved to the mountains with me. Thus I would visit frequently, and Bob and I ran the trails - so many times - something which engendered a bit of Rancho romanticism for me as well.
Finally: I have to say, that as an artist, this painting is for me a celebration of the color green. At various art workshops and critiques I have been counseled to avoid green in my paintings. The reasons for that were never made clear to me, and in the absence of valid rationale, I am a bit rebellious. Thus I decided that for me 'green is good', and I have elected to use that color when and where I want to. In this case, Rancho San Antonio would not look like itself without the unabashed use of bright glowing greens that happen in the spring when the new grass and young leaves are sprouting. I think it fits.
Be well. margie lopez read

margie lopez read
top