Rainbow Tree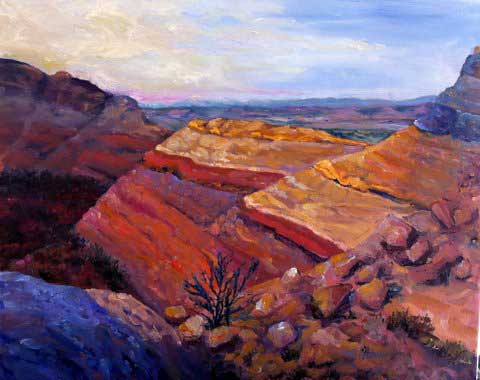 Friends -

Although I may have a chance for a quick draw or two, this will be my last studio painting for the year. It was not easily achieved.

The difficulty is only in part due to the surreal nature of the place I have shared with you on canvas or pastel board a few times now. The place is Rainbow Rock near Island in the Sky of Canyonlands National Park and it is special is in part due to its accessibility. The massive pancake layers on this formation are not only gorgeous, but they act like colored stair steps that allow you to get to the very top to roam around on a rainbow. Who can believe that in a painting? Well, I am here to tell you it is real, and if you want me to prove it, come visit in Moab, ok?

The other challenge during this painting was the presence of my grandkids 50% of the time. I've never tried to paint simultaneous with doing other activities, so it was harder to put my brain in the right place. When I look at this finished painting now, it reminds me of the fun Benjamin-Leonardo-Jasmine-Sandra-Andrea chatter going on in my Lopez Island studio at the time. Better than any music, I say!

As usual, Rainbow Tree is available to trade for a donation to a worthwhile organization. Let's help do something good for the world.


margie lopez read

top