Puppy Love
Roll your mouse over the photo below
to see the other side of this gourd.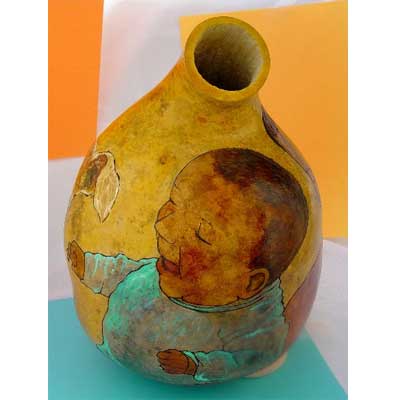 Friends -
Today is Cesar Chavez Day, and a State Holiday. So I had a bit of time to finish this gourd, Puppy Love. It is unfortunate that I can't email a photo that rotates, because the image on this one needs the full 360 degrees. It was inspired by my grandson, Benjamin (now almost 9 months old), who goes absolutely nuts when he sees animals -- especially dogs! He can hardly contain his own excitement and wants to be as near as he can get, probably even see what it would be like to stuff that puppy in his mouth. Of course, the dogs may or may not be too happy about the encounter. Most likely they are wary and worried, but once they get to know that Ben's Mom is nearby, they generally are accepting of Ben's delight. This gourd shows just that -- a very eager little boy, a wary puppy and a vigilant Mom (Rosa). Let me know if you want to see another view.

Puppy Love is about 9 inches tall, which I will sell for a donation to UNICEF, MORE, or a nonprofit organization of your choice (as long as it serves human rights, human health, or the protection of the environment).

Enjoy your spring -- before long it will be hot again!
top