Portal Shack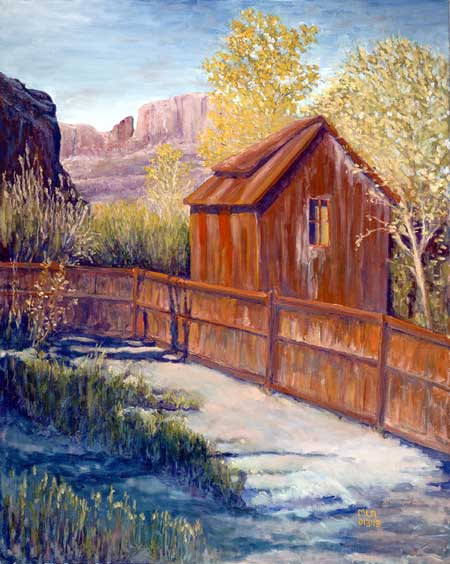 Friends -
This is the second painting that I have done which shows the famous Moab Notch in the distance. The little red shack is very charming in its own right and worthy of a painting .. but it is the red rock wall and that famous Notch that towers beyond it every day that makes the shack especially enchanting.
Way up there, just below that notch the Portal Trail traverses the east side of the rock on a trail that everyone should try! The relatively short hike takes one up to an overlook that offers views of the whole town of Moab, the Colorado River and Arches National Park in the distance, as well as Mill Creek Canyon, the La Sal Mountains and more.
Although not recommended for kids or the faint-of-heart, one can continue on the trail for another two miles or so and loop around to the west side of the Notch. On that side you can take a peek through the slot to see Moab from a viewpoint that not too many people do. The fingers that form the Notch have also become a point of some interest for rock-climbers that know how to scale up one side of it and repel down the other. Yikes!
If you are interested in exchanging this 16x20" oil on canvas for a donation to a worthwhile non-profit, please let me know. I have had some interest expressed already, but nothing is finalized just yet.
Most importantly, be well and safe.