Polar Pile on the Mom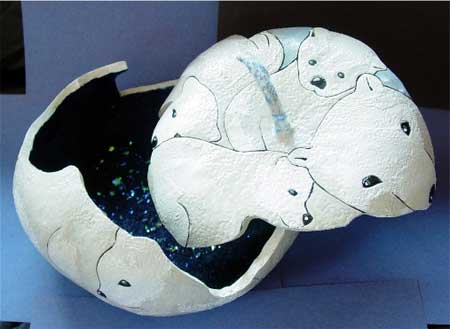 I was lucky to grow up in a family where my Dad and Mom spent so much time doing things with us and for us. And, of course, the simplest things are the most treasured. I remember a tick that my Dad used when he wanted my Mom to get up on Saturday mornings. My younger brother and my older sister and I would be lounging around the living room, and my littlest sister Susie was just a baby in her crib. Then we would get the signal when Dad would yell, "Dog Pile On the Mom" - and we would immediately leap up and rush into their bedroom and jump onto the bed and tumble her around, until laughingly she had to get up.

Polar Bears seem to have that same kind of play, although the Dad is usually not around to signal the Polar Pile on the Mom. In fact, he might eat the little cubs if he was around! Most litter of cubs are only two, but sometimes they have up to five - and I took the liberty of having a bigger Polar Pile, for this particular gourd.

Polar Pile is made from a canteen gourd, and decorated with pyrography, acrylic paint, and some wonderful blue, green and white translucent embossing powder that I bought from my friend Linda at 'Stamp It Rich' in Placerville. It must have been the playful nature of the gourd theme that drove me to decorate the stem and the inside of the gourd with flakes of blue-ice glitter. Glitter!! That is a thing for kids! Well, what can I tell you? I had fun with this one.

Margie Lopez Read
top