Playa Azteca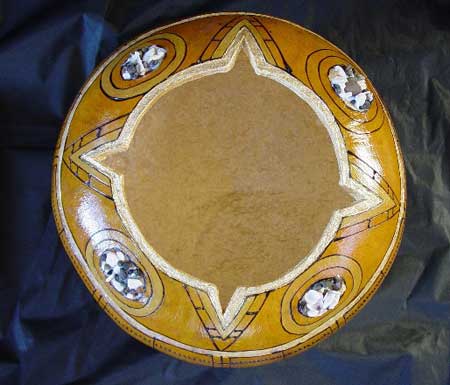 This canteen gourd really was an experiment for me. I do admire gourd carvings, and attempted a tiny bit on my recent Tahoe gourd. But I planned it quite a bit more in this one, and did some inlay in part of the carving as well.
I can tell you that I am still learning about carving! I tried various instruments, blades, and bits for my dremmel tool as well as manual carving tools. It was not too terribly easy, and I nearly stabbed myself a few times. But I think I was getting better toward the end of the gourd, and intend to keep it up some more. This one did not turn out too bad, after all.
I call it Playa Azteca (Aztec Beach) because the design is pretty much borrowed from ancient Aztec art, and the inlay is from tiny crumbles of sea shells and stones found on a beach. In addition to the sea shell inlay, it is made with pyrography, leather dye, and some acrylic paint.

Margie Lopez Read
top