Cape Perpetua Overlook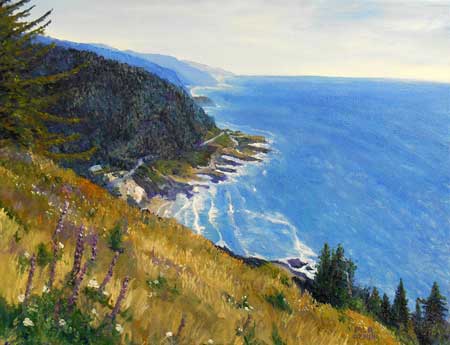 Friends -
With this third painting of my Artist at the Cape experience, I am showing you a spot very special to me -- right next to the Rock Shelter and the first place that made me fall in love with this Cape Perpetua Scenic Area. It was a couple of years ago that Bob and I took the steep hike from the bottom in the interest of hiking -- not knowing what splendor we would find at the top.. and not knowing what an adventure it would lead me to.
At this spot I am standing nearly 800 feet above sea level, treating myself to views of miles of coastline and distances so far out to sea that it feels as if you can perceive the curve of the globe. Breath taking. Captivating. Addicting. The Cape Perpetua Overlook is also an excellent spot from which to view whales as they migrate, feed and throw their spouts up into the air. My non-hiker friends will be pleased to know that you can also drive a two-mile windy road to the Cape Perpetua Day Use Area and walk a short, level distance to treat yourself to this view.
With my next painting I am moving inland just a bit - into the trails of the Siuslaw National Forest. The importance of the ecological interplay between this amazing coastline and the mystical forest cannot be understated. We will go there with painting #4.
Since many of you have asked -- It is starting to look as though there will not be an on-line auction, but more likely an opening day for the presentation and sale of these paintings.. Likely in September. I will find out, and I am sure you do not need to be present to buy an original or a print from the Discover Cape Perpetua Visitor Center. And you will be pleased to know that your payment will constitute a donation to continue the Art At the Cape Program next year.
Be well.
margie lopez read
top