Mule House Fire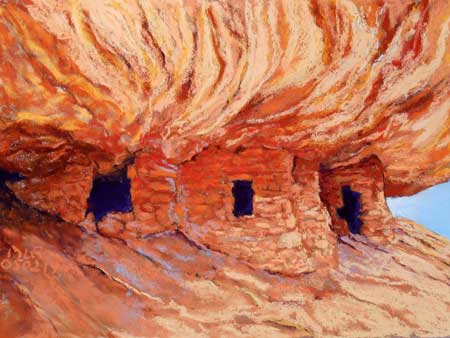 Friends -

I don't mind telling you about this particular ruin site, because upon our visit last week, it became apparent to me that it is already quite well known. That is part of what the internet does for us - for better or for worse. Sometimes information spreads so fast and far now that everyone learns about a site like this. And many want to visit. Sadly, not everyone respects the Antiquities Act and the importance of leaving things as they are - not taking home corn cobs, pottery shards, and moving rocks around just because. Or, worst case scenario - using the ruins for target practice or spray paint art. Anyway, you get what I mean.
But for you, my friends, The House on Fire is easily accessible in South Fork Mule Canyon of Cedar Mesa, Utah. There are several ruins in the South Fork, but my feeling is that this one is not only the most photogenic, but also the one that emotes the most of the Anasazi presence.
When Bob and I went there last week, we hit it just at the perfect time. Mid-afternoon, and the sun was at a perfect angle to light up the 'flames' that appear from the very heart of the structure.
I painted this later, from my own photograph, almost completely in the window of the Gallery Moab. I guess one could say that I have been producing a lot lately, and you will now have a break! I am going off to Oregon visit my grandsons. Thus, my heart and hands will be occupied. Regardless, if anyone is interested in trading a donation to a worthwhile organization for this pastel painting, please let me know.
Be well, in the meantime.
margie lopez read

top