Monkey Tumble
Roll your mouse over the photo below
to see the other side of this gourd.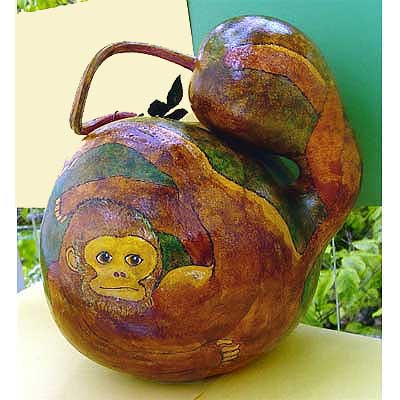 Friends - Once again, watching nature programs on TV, and with this media you can watch monkeys in their element, doing what they like to do...something you will be less likely to see in a caged environment, like a zoo. In their play, they tumble and roll around with each other so quickly that you can hardly tell where one monkey ends and the other one begins. You might call it a monkey maze in motion...

Anyway, the shape of this very splendid gourd really lent itself to the rough and tumble action of monkeys in play. And much like a monkey maze in motion, it does become hard to know where one monkey begins and one ends on this gourd as well. It is made with pyrography, leather dye, acrylic paint, and some embossing powder for monkey-nonsense texture. I will sell it for a donation to UNICEF, MORE, WEAVE or a nonprofit organization of your choice (as long as it serves human rights, public health, or the protection of the environment).

Enjoy this wonderful spring weather, while it lasts.
top