Mole For Lila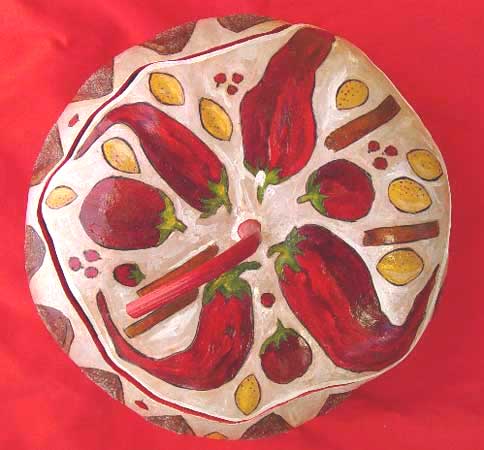 The inspiration for this gourd came after Bob and I went to hear a live concert by Lila Downs last at the Mondavi Center at UCDavis. She and her band are on a world tour and I highly recommend it if you get a chance to hear them. Raised mostly in Minnesota, where her father was a university instructor, her music largely embraces her mother's culture from Mexico. She sings traditional and non-traditional songs, and all of it has a modernized character that is all her own.
One of her songs about a special Mexican culinary treat -- Mole. This song in particular struck me, as the lighting in the background had flashes of the ingredients for mole -- like dancing chile peppers and almonds bouncing into bits. It was so fun that I made a gourd for Lila's mole.
This is a neat little canteen gourd decorated with different chile peppers and some of the other ingredients that you use for mole, like almonds and cinnamon sticks and chocolate. Kind of fun.

Margie Lopez Read
top