Memories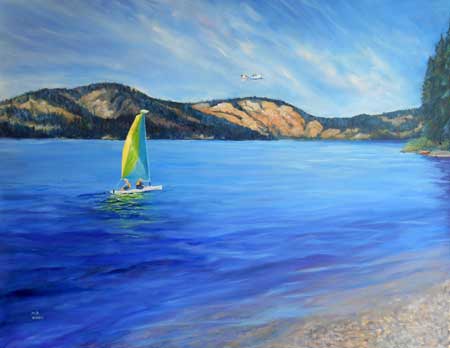 Friends -
Almost all of my paintings have a story, but I have to say that this one is unique and, in fact, inspiring to me. 'Memories' was brought about by a special request from a special person for a special reason. That is why it is especially different from my usual.
I met Krista back when I worked for the State and managed an agricultural water quality monitoring program. She was one of several very bright, hard-working UCD grad students that we relied upon for success. The fact that she is also an accomplished ultrarunner with an aura that projects absolute joy with life, only contributed to my pleasure in working with her.
Together with other family members, she wanted to get this painting to give to her uncle for his birthday. There is a particular lake that has been a special vacation home for them all, with years of fun times and special memories. So, after getting a few photos from Krista, I attempted to include some of the 'special memories' in this painting. A particular beach on the lake. A particular kayak. A particular airplane flying above the lake. And most colorfully, a particular Hobie Cat sail boat.
I may do a memory painting of my own for my own family, based on this very fun experience. And gratefully, this 'Memories' brings another donation to a worthwhile scholarship fund.
margie lopez read
top