Los Musicos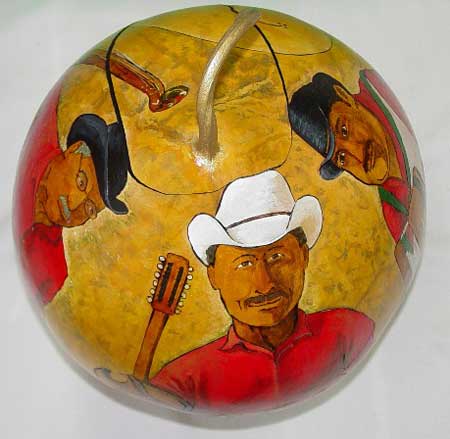 I finally had a few hours today to finish off Los Musicos (the Musicians). This trio was playing at Julian Ayala's (my nephew-in-law) baptism last July in La Piedad, Michoacan. In Mexico, baptisms are celebrated almost as much as weddings, with mole, live music, and lots of happy people. I wish I knew the names of these musicians, but I do not. There was the oldest one with the black hat, and the youngest with the white hat. They played the stringed instruments. And then then there was the third one with the accordion. It is clear that they were all Very Proud of their music, were quite skilled, and took it very seriously. When musicians are proud like that, it shows in their eyes, in the way they walk, and it emanates from the fabulous sounds that they make. It is not possible to keep it from getting into your heart -- even if you should want to.

I think that some of that pride and power must come from the fact that La Piedad is right near the border of Guanajuato - which is the home of a very famous singer and songwriter by the name of Jose Alfredo Jimenez. No, joke, because Jose Alfredo rocked the Latin music world before he passed away in the early 1970's. Not only did he sing rancheros and mariachi music, but without any formal training he wrote a multitude of songs. Other famous singers have used his songs include Vikki Carr, Julio Iglesias, Javier Solis, Lola Beltran and Pedro Infante. I have read that Jose Alfredo is considered to be the Woodie Guthrie of Mexico for these reasons.

Anyway. I do like this gourd. It is pretty sturdy, about 10" tall, and it belongs in a room where the music will be playing. The money for this gourd will go to UNICEF, or M.O.R.E. I am also considering having it go to National Public Radio, if you might be interested in that. Although not perfect, NPR is one good service to give us current information and news without so much slanted bias that comes from the influence of corporate dollars. But I will let the purchaser decide!


Margie Lopez Read
top