Let's Cook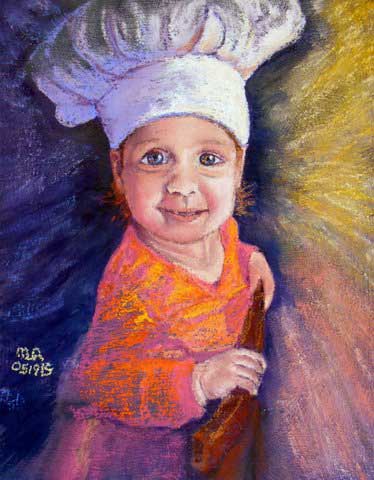 Friends -
This is probably the last painting that I will be sharing for a while, as time probably will not allow doing more. However, in partnership with my kids (ages 3 to 40), we will be creating some fun moments and, perhaps from that paintings will ultimately result.

Anyway, "Let's Cook!" was an experiment of my own invention, and I think it came out OK in spite of that.

I have wanted to try texturing the hardboard painting surface with Moab sand for a long time. For months a container of beautiful fine, red sand that I collected near my home has been sitting in my art studio, and finally I decided to use it. So, I mixed it up with some gesso and some acrylic paint for color.

The other little experiment was adding some Prussian blue acrylic paint in the background to enhance depth. Not sure I would try either of these ever gain.

In particular the Moab sand, although quite fine, is not nearly as fine as the pumice that you can buy from art suppliers. It made creating the soft curves and sparkles in lovely Abby's face pretty tricky. But I have learned that she is a 'science baby', so perhaps she won't mind this little experiment.

I am entering "Let's Cook" in an upcoming art show in California, and will make it available for a donation to LCC Scholarship Foundation.

Have fun, and never stop experimenting with your life.
margie lopez read
top