Kennedy Meadows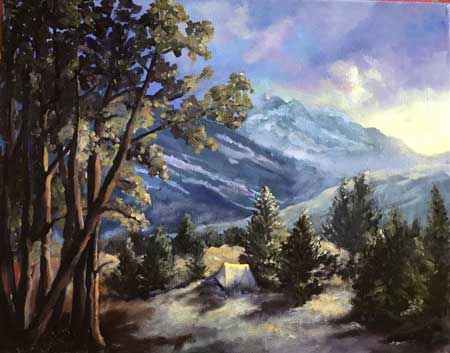 Friends –
It seems appropriate that the description for this painting, Kennedy Meadows, is being written on the same day as the start of the 2018 Tahoe Rim Race. Yep, as I type, hundreds of ultrarunners are 6,000' higher, braving a course which is accurately described as follows:

"A Glimpse of Heaven… A Taste of Hell."
I make this connection because the new owner of this painting is someone that I first met a few years ago at the finish of the 100 miler. As I recall, she was the last finisher of this very grueling event, but she completed it with energy and a hugely radiant smile that rivaled the glow from the sun.
Some people have the exceptional quality of observing all that is good to be found in the world and diving right in to experience it. Heather is one of those.

Usually I paint only places that I know personally, but I have never been to Kennedy Meadows. Yet, my own backpacking experiences help me understand the ecstasy of waking up on a cold high-mountain morning to observe a sunrise such as this. Thank you so much for the use of your photograph, Heather Van Ness, which results in a donation to Doctors Without Borders.
margie lopez read