Keeep Movin'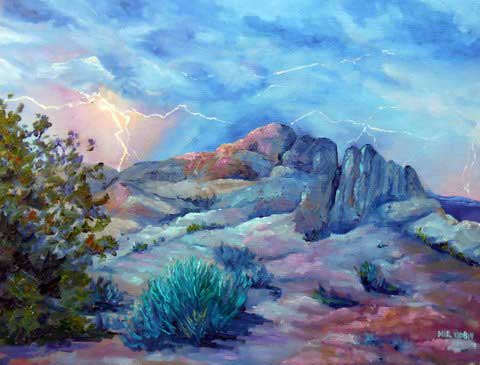 Friends -
I have been thinking about this painting for some time, but just this week had a chance to make it happen. My friend Noel Outtrim took an amazing photograph of a lightning storm from Sand Flats near Moab, and he is allowing me to use a portion of it for my painting. Noel is a talented photographer with lots of love for adventure and exploration. I like to think that I am a painter with the same tendencies.
Well, it so happens that recently I was desperate for a hike in the slick rock. So on a relatively clear morning I asked Bob to drop me off at the top of Sand Flats near where Noel took his photograph with the idea that I would hike home from there. Satisfying area to hike - lots of slick rock to scale and gorgeous views of the Moab notch, Spanish Valley and crazy rock shapes. But about 20 minutes into the hike, and long after Bob had departed, the clouds moved in and I began to hear distant thunder. Well, it came closer. And closer. Then the hail and pelting rain hit. Soon I was counting the seconds between the lightning bolts and the sound of thunder and realizing that it all was within a handful of miles.
You can't hide under a rock shelter up there in Sand Flats. They are full of seeps that love to conduct electricity. And you don't want to get near something tall - like a juniper tree or such. That is a recipe for fast cooking. So the best thing to do is keep moving. Which I did. Slipping some, sliding some, and always moving fast and counting the seconds between lightning bolts and thunder claps.
As you can tell, I made it safely home. And thanks to the help of Noel Outtrim's photograph I can share with you a little view of that adventure. As always, this oil painting is available for your donation to a worthwhile non-profit organization, such as LCC Scholarship, Save Our Children or Doctors Without Borders.
Be well always,

margie lopez read

top