Hike Up Baldi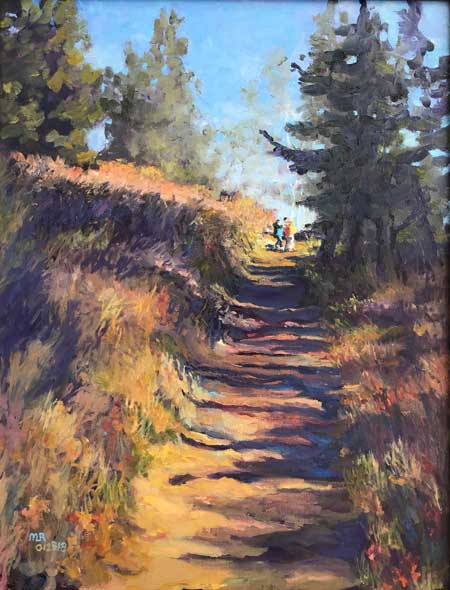 Friends –
January in Eugene, Oregon can be cold and gloomy. Yet, I cherish the time I have there to share in the lives of my grandchildren (as well as their mom and papa). I like to think that I also give Benjamin and Leonardo more chances to be outdoors and experience wild places. To me that is so important. As world events border on lunacy, it is the wild places that can bring one back to sanity. I need it, and my grandkids need to know that it is there for them.
Yet, outdoor activity can be tough in Eugene and this particular day was typical of a Willamette Valley winter. We had made plans the night before, but got up in the morning and looked out the window at heavy fog and its promise for a cold hike. We simply dressed accordingly. At the Ridgeline Trail head we were still fully engulfed in the gloom. But the kids tumbled out of the car eagerly and bounced up ahead of me on the trail, chattering away.
We were about half way up when the fog began to break. The cold was becoming less intense in spite of increasing our altitude. At the summit we were able to enjoy full sun and warmed up enough to peel off a layer of clothing. We munched on a snack and looked out over the top of the dense fog that blanketed the Valley. Some of the higher peaks poked up above the icy carpet like ships on an ocean of cotton. Awesome.
It made us glow with a sense of adventure and was a reminder to me and an insight to them that it is always worth it to get out. Something good always comes of it and staying indoors is not an option.
Embrace your wilderness.
margie lopez read