Green Flow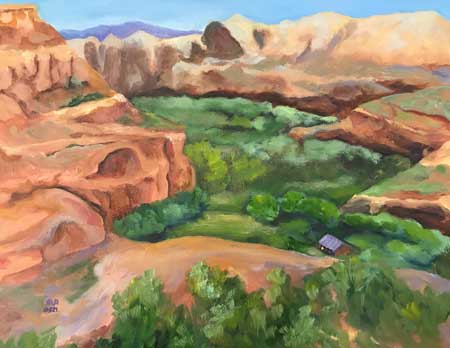 Friends –

Some of you may know that I just spent some time at the Escalante Canyons Art Festival. And yes, I did paint!
But let me first say that Escalante has become (for many of us) a place to celebrate the fantastic beauty of this National Monument and the close unity that we feel with friends who love to go there and paint what is in our hearts. It has become an incredible family of artists and art supporters. And to top it off, this year's event coincided with the 25th Anniversary of the National Monument Designation. So many reasons to celebrate!!
Over the last two pandemic years, many artists continued to practice their plein air painting. But not me. I isolated with studio work. As a result, my first plein air in two years was nothing more than mediocre. All four paintings need a fix.
I am sharing one: "Green Flow" is a view of the Escalante River Canyon from Kiva Coffee House. I was asked to do this for a festival demonstration, and I must tell you that it was a lot of fun. Gathering with other artists and observers and express the beauty with our pigments and share lots of raucous chatter, laughter and joy was heart-warming.
I will get to the other paintings, but right now the paintings have been taken a few hundred miles away, so they must wait until I can lay my hands on them. I will share them when I fix them, and I thank you for your patience.
As always with Donation Art, "Green Flow" is available in exchange for a contribution to a worthwhile non-profit. Please be well and be safe.
margie lopez read
www.margies-art.com
.
margie lopez read