Not Taking it for Granite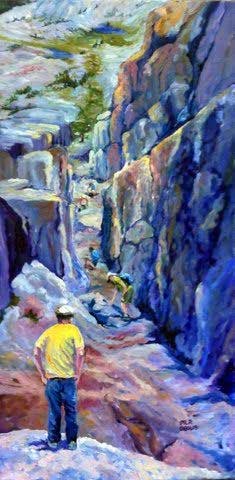 Dear Friends -

This is one of the paintings that will be entered in a January exhibit at the El Dorado Arts Council, Placerville. The theme for the show will be a celebration of endurance events of all types. I have more paintings in mind, so stay tuned. This one is entitled, "Not Taking it for Granite".
The title is a pun on words, but it was a joke that was free-flowing amongst the 7 or 8 of us as we bouldered our way up to the shoulder of Cocks Comb a couple of weeks ago in Yosemite. We paused at the top somewhere between 10,000 and 11,000 feet, admiring the views below us. It was a breath-taking, awe-inspiring experience that none of us could take for granted.
Then we made our way down the other side of Cocks Comb utilizing a slot which is the scene of "Not Taking it for Granite". It was a sharp downhill, which required a sliding, downhill skiing type of action that made some of us a bit nervous. Also, this was a cross country trek and we could not tell for sure that if we got down that slot we would not find ourselves at the edge of a cliff and need to come back up.
I guess you can take it for granted that we did not get to said cliff, because I am here today to paint this for you!
There is one individual shown in this painting that was not actually physically present during our hike. You can probably tell which one that is because he has no backpack, no hiking pole, no water filter, nothing. You don't make it to the top of Cocks Comb that way! But I needed to put this special guy up there watching us because he was the reason we were there. Bob knows the back country of Yosemite's Tuolumne Meadows very well and although he could not join us in the hike, he painstakingly described the route(s) and topography to the hiking team leaders the night before we left. So, even though he was temporarily unable to hike with us that day, we felt that he was very much with us and I used my artist's license to prove it.
I need to keep this painting until the January show, but I can put a 'save' on it and make it available as a thanks for your donation to a worthwhile non-profit - scholarship funds, food programs, emergency relief funds, and the like.
Hike on.
margie lopez read

top