Giant Spruce at the Cape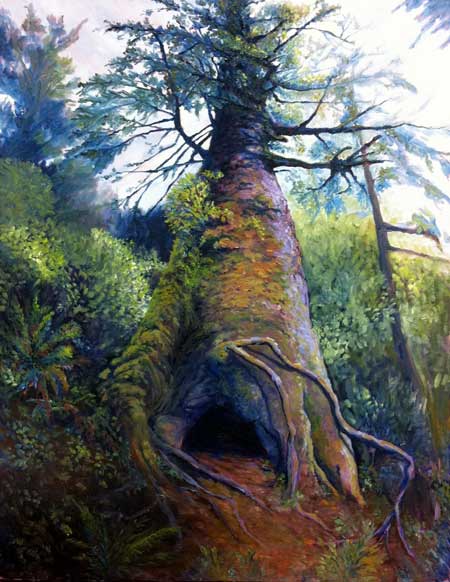 Friends -
This 'Giant Spruce at the Cape' is the first of a series of paintings that I will be doing for the U.S. Forest Service and the Cape Perpetua Visitor Center. It felt important to me to honor the oldest living inhabitant of the area for my first painting, although the enormous size and importance of this senior citizen was intimidating.
You have to understand that this Giant Spruce was here since before Columbus sailed across the ocean, undoubtedly was known by indigenous peoples and has served as a habitat and resting place for millions of other living creatures. It is now about 600 years old, 185 feet tall and with a base circumference of 40 feet, according to the Oregon Heritage Tree Program.
I love this tree because of what it represents. Like any of us that grows old, it developed bumps, gnarls and other irregularities, and has become twisted with hardships it endured that we will never know about. It has done everything it needs to do to survive and has become more beautiful because of all of its imperfections.
I especially enjoy it's generosity in providing habitat to other ferns and trees that grow on its sides, cavernous hideaways (yes, more than one) near the roots, and expanding arms up in the sky for birds to procreate.
You really need to visit the Cape and take the gentle hike on the trail that leads to this beauty. Well worth the trip.
Thanks to Dave Thompson, Interpretive Specialist Central Coast Ranger District & Oregon Dunes National Recreation Area, his staff, and Paula Cline-Jones of the Cape Perpetua Visitor Center for allowing me the opportunity to share what I do with the people that visit these treasured lands.
margie lopez read
top