Don't Try This At Home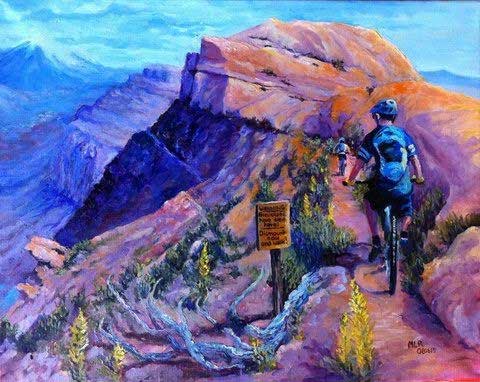 Friends -

This most recent painting is named "Don't Try This At Home" because I would not want you to do it. In fact, I would not want you to try this at the Portal Trail in Moab either, which is where this is! Yes, I almost always paint scenarios of my own experience, and in this case I really was there.
But just so that you do not doubt my sanity, I must tell you that I was on foot. There is a tough group of women hikers in Moab, and I have been lucky enough to join in with them at times. The Portal Trail is one of my favorites and one that we chose to do before I left town last spring. Karen Robinson, of that group, was snapping a photograph of the landscape and the sign when a couple of mountain bikers blithely rode past.
Portal Trail is not for the faint of heart, and it gets a bit dicey in places with narrow ledges and 800 foot sheer drops. There really, truly are warning signs that mandate that cyclists dismount and walk. Some do. Some don't. And as a result, some have gone off the edge and died.
This oil on canvas, 16x20" was painted for use in the El Dorado Arts Council (EDAC) exhibit on endurance events in January. It should be a very unique and interesting show, and plans are in the works for special events including a fun run, beer tasting and guest speakers. All going well, Ann Trason will be one of our speakers.
So, I am excited. This painting will be for sale at EDAC, and the amount I would receive will be your tax deductible contribution to a scholarship endowment fund. If there is an interest there, let me know at any time.
Keep doing fun stuff.
margie lopez read
top