Dangerous Beauty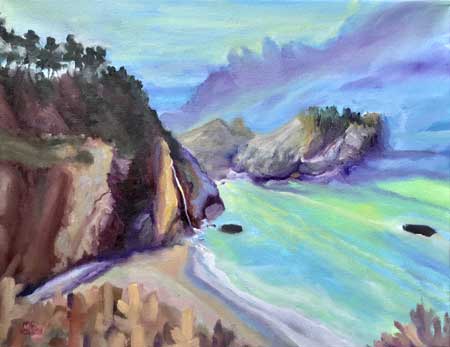 Dear Friends-
Earlier this month I spent time camping and wandering untold miles around Big Sur. Originally, I was going to find spots to paint, but instead opted to take those four days to explore. I do not regret that choice. But I did take many photos and this painting, 'Dangerous Beauty' is the first from that 'roll of film.'
While strolling around the Julia Pfeiffer Burns State Park – one of the many State Parks along the Big Sur coastline -- I came upon this well-known waterfall, McWay Falls. When you do not know it is coming, the sight of the water shooting out of the rock directly on to the beach some sixty feet below is breathtaking. It seems, in fact, surreal.
Sadly, just a week or so prior to my visit a young woman fell to her death when she was attempting to climb near the falls on a dangerous and prohibited area. Just 22 years old with her whole life ahead of her, she succumbed to the temptation of getting just that much closer to the glorious but dangerous beauty. Other visitors saw her falling body and heard collision with the rocks before she fell into water below.
The information about her choice to take a risk and subsequent death only added to the surrealistic mystery of the place. Somehow, I felt the need to put that down. So, here it is, "Dangerous Beauty" and like all Donation Art, this is available in exchange for a donation to a worthwhile non-profit.
Be safe.
margie lopez read

www.margies-art.com
.