Cronan Turkey
Friends -
Today I finished this painting that I have to say looks better in real life than it does in this photo. Being as it may, I still want to share it with you.

Some of you may already know about Cronan Ranch, which is a wonderful regional park in El Dorado County along the South Fork of the American River, just below Coloma. It has been blessing to hikers, horse riders, runner, and mountain bikers because of all of the lovely options for routes -- all of them gorgeous. It is also typical of the area in that it has some remnants of early Native Californians, but mostly shows the signs of rampant gold rush fever and cattle ranching. The land now belongs to the American River Conservancy and is reserved for recreation and wildlife conservation. Lovely!!

Although I did not initially intend to put a turkey in this painting, I felt compelled to after watching a superb program on PBS entitled, 'My Life As A Turkey'. It is the story about a naturalist that wanted to study imprinting in wildlife and did so with a bunch of wild turkey eggs. If you get a chance to see it, watch it. It certainly gave me a new respect for these birds. And at certain times of the year, you see turkeys everywhere in this park and throughout the county. Just like in the movie, I am now practicing 'turkey talk' whenever I see them. Fun.

The original of this painting will not be for sale, but I will sell prints for a donation to worthwhile organizations -- like Doctors Without Borders, for example.

Well, gobble, gobble, for now.

margie lopez read
P.S. Please scroll down to see the turkey in detail.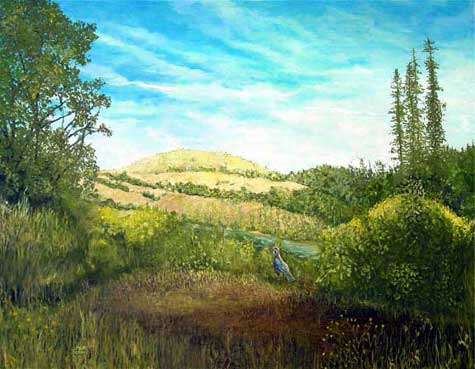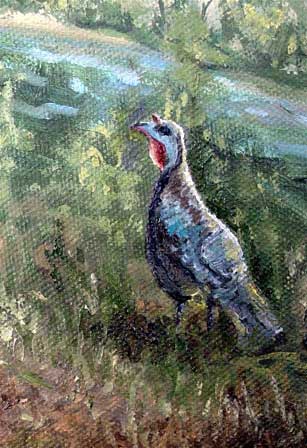 top