Cook's Ridge Bridge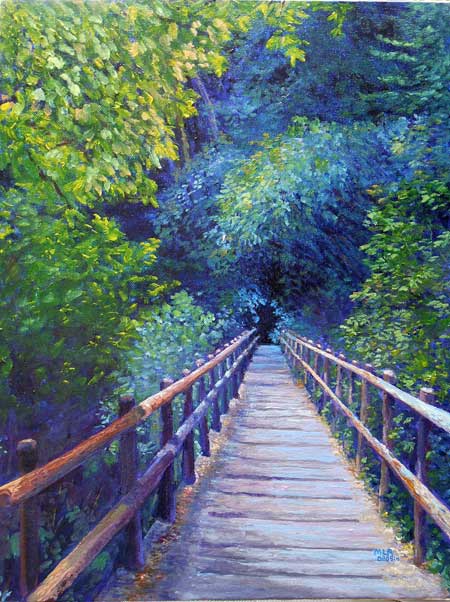 Friends -
With this fourth painting of my Artist at the Cape experience, you are getting a glimpse of the trails that await you when you visit the Cape Perpetua Scenic Area. The exact location of this bridge is early on the 'Cook's Ridge and Gwynn Creek Trail' - a challenging 6.5 mile loop that takes you into heaven and back again. I say that you will find this at a time that is when and not if because you will want to go there and enrich your life experience with this extraordinary bit of public land.
Interestingly enough, when I was in the early stages of painting this scene someone noted that she could not tell if the bridge lead to a forest or the ocean or some mysterious other. Well, the answer is most appropriately, "all three". I say that because although this bridge is firmly located on land, the ecological interdependence and health between the coastal Siuslaw National Forest and musical mountain creeks with the rich aquatic feeding grounds of the tide pools, coves and ocean does not allow separation. They are one.
Further, the mysterious 'other' that this observer noted in the painting is also there without any doubt. Visitors to these trails will need to keep their minds and souls open, because if they do, they will encounter the spiritual essence of a place previously inhabited by the ancient ones and coastal natives, the Alsea. At times the experience reminds me of the feelings that come when I visit the Anasazi ruins in Southeast Utah; as I am want to do.
The history of native peoples along coastal Oregon is important and thanks to the hard work of some dedicated locals, it is becoming better and better documented. I have a lot to learn and doing so will take time. But meanwhile I have experienced that spiritual essence, every bit as much as coming upon the spruce, pine, star fish and whale. I invite you to visit and feel this for yourself.
This and other paintings will become available through the Cape Perpetua Visitor Center, and the funds will be used to extend the Art at the Cape program for future years.
margie lopez read
top