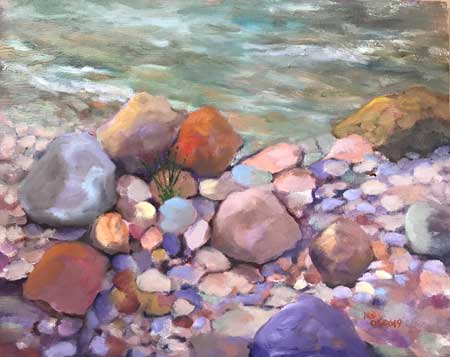 Tuckup Canyon Beach,
mile 165


Friends –
On Day 6 of our Grand Canyon float it was clear that we were heading ever south. We were starting to see different types of plants such as primrose and purple aster and cactus that seemed right out of a western movie setting (barrel and ocotillo cactus) Sometimes the barrel cactus grew out of the side of a rock and bent itself upward, which is something I had never seen before.
We also passed through an infamous rapid known as Lava Falls Rapid, which drops you down 37 feet into roaring wall of white foam – better than any roller coaster ever. While I fear roller coasters, this I feared not because I knew that are river guides were up to it.

We beached for the night at Tuckup Canyon and some artists went for a hike. I chose to stay and paint what turned out to be my last painting of the trip. This is because a sand storm came up while I was contentedly painting and wreaked a bit of havoc. It blew over tents and some painting supplies, but mostly filled my exposed brushes and palette with sand. Lightning flashes were also seen in the distance, but we seldom heard thunder and escaped any rainfall – at least for night 6.
The benefit of such a weather event in the wilderness is that it is invigorating, and it does give you something to talk about in the locker room. Also, that same sand storm that blew over a few tents, donated a thin film of fine-grained sand all over my painting. It enhanced it with a texture that is quite genuine in the desert. As long as the park service does not come after me for removing a natural resource from the Grand Canyon with this sand covering, I am good.
"Tuckup Canyon" has already been committed to a new friend in the town of Sandy, UT, who will be donating to Whale Foundation. (whalefoundation.org).
Adventures are worth it. I will try another soon.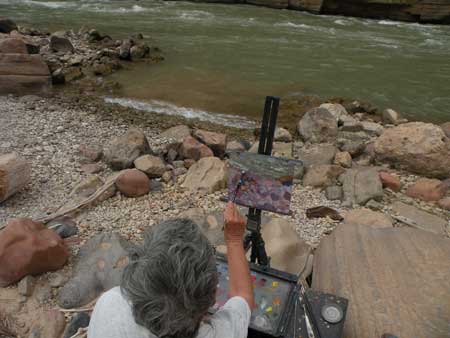 Margie lopez read