Cesar Chavez Panel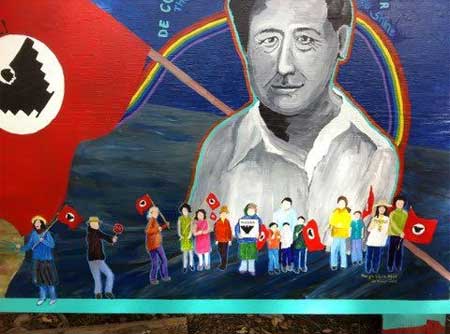 Friends -

For the past week I have been in 'Back Flash Memory Land' as I worked on painting this panel. You see, the Moab Valley Multicultural Center (MVMCC) had received a grant to create a mural commemorating various individuals around the world that have made a positive impact in civil rights, human rights, respect for all creatures.
The list of notables they decided upon (although the decision was not easy) includes Gandhi, Standing Bear, Mandela, Angelou, MLK, Goodall, E. Roosevelt, and Cesar Chavez. The artists chosen to paint one panel each were able to cast our own votes about who we wished to paint.
While I admire all of the individuals on the MVMCC list, the choice to paint Cesar was a no-brainer for me. The influence that he, and the United Farmworkers Movement, had on my life back in the 70's is forever permanent. So, they let me have the Cesar Chavez panel for my assignment. Thus, all week I have been painting, humming 'De Colores' and pivoting backwards in my mind to memories both rich and painful. Very special.
I kept the faces in the crowd (on the panel) somewhat general, in part because my time was running short. But I may come back at some point in the future and give them more recognizable detail. Still, there is one person in the crowd that you may recognize. Let me know if you do.
I certainly look forward to seeing the other panels. If you wish to see the completed mural with all 9 panels filled, give me the word. I will make sure you get a photo.
margie lopez read
top