Cape Cove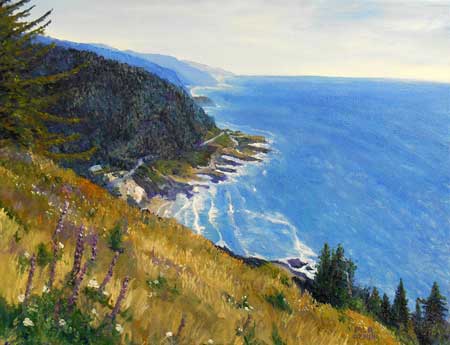 Friends -
If you were to visit a place like the Cape Perpetua in the Suislaw National Forest, would your choose a day with sunshine or one with fog?
That choice would seem to be a no-brainer for most of my friends. Certainly my first reaction would have been to go for the sun. Thus, when I paid my first visit to the Cape Perpetua to paint plein air, I was disappointed that the intense heat inland made for thick fog on the coast. But I was there to paint and to give others a chance to paint with me so I set up on the Visitor Center deck and got started.
Well, I can tell you that at this particular heavenly location, fog is not a disadvantage. Rather, it is misty and mysterious and fills your lungs with lusty, marine-based perfumes. Its watery motion as it breathes in and out of the trees and landscape is captivating. I can also tell you that plenty of people seemed to agree, as I had so many (mostly kids) want to paint with me, that I relinquished my easel to others. I never finished a plein air painting that day, but had a most glorious adventure working with others in their Cape Perpetua painting interpretations.
I did take a photograph on that same day right when the fog was beginning to show a break far out somewhere over the ocean. Quite dramatic! I brought that photo home to my studio to complete this painting. This now becomes the second of a series of oils that I am painting for the Suislaw National Forest and Discover Cape Perpetua. My understanding is that there will be an auction, possibly online, of all my paintings from the Cape Perpetua coming up this Fall. The proceeds from the sales will be used as seed money to continue an 'Art at the Cape' program next year. I will let you know more as I become more informed.
Be warm or be cold, but be well.
margie lopez read
top