Bridge at Wrights Lake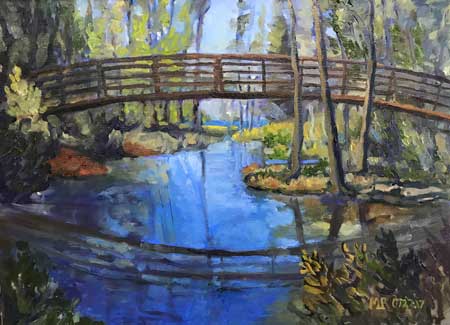 Friends –
My original intent last Friday was to go up in the high country and practice with my backpack and Day Tripper plein air gear. I am really happy with the gear because I can fit all my paints, brushes, rags, canvas, palette, drawing pad, pens, water and snacks easily in the backpack. Plus, since the last surgery on my knee, I now have the ability to put that load on my back and hike out a mile or two (or more?) and set up to paint in wild places that make me free. On this day, I wanted to be somewhere that speaks to my soul and commune with the surroundings in the way that one must if you want to paint.
I also wanted to re-visit the high country of the Sierra Nevada because I've been away too long. If you have never been to the Sierras, come visit and I will take you. It is an area that has given so much nurture to me over the years.

There are infinite numbers of places in the Sierras that are perfect for painting. But in this instance, Wrights Lake within the El Dorado National Forest was the pick.

Bob came with me and, well, naturally we had to 'walk around' for a bit. That bit really ended up being more like 3 hours as we meandered around the Wrights Lake wetlands and then hiked up the granite towards Grouse Lake. Then we went off trail when we heard the roar of a waterfall and followed the sound to check it out. So good! We sat for a while, admiring the beauty of so much water and ate our lunch before heading back to the car to pick up my gear.
The nature-communing was fantastic. But in the end, I did not have time to do a painting that same day. However, I did pull out my tiny drawing pad and composed a value sketch. With that valuable value sketch in hand, we packed up and headed back down the hill to home. I promised myself I would go back and paint it in person soon.
But I didn't. Or, at least not yet.
Instead, I woke up the next morning and pulled out my Day Tripper. I tried to simulate that Wrights Lake feeling by setting it up among the trees outside my own art studio. I relied heavily on the value sketch, and this is the result. I am happy enough with it to put it in a frame and offer it to someone who might want to accept it in exchange for a donation to a worthwhile organization.

"Bridge at Wrights Lake". Not really plein air. 9x12 unframed. Oil on linen canvas board.
margie lopez read